Trove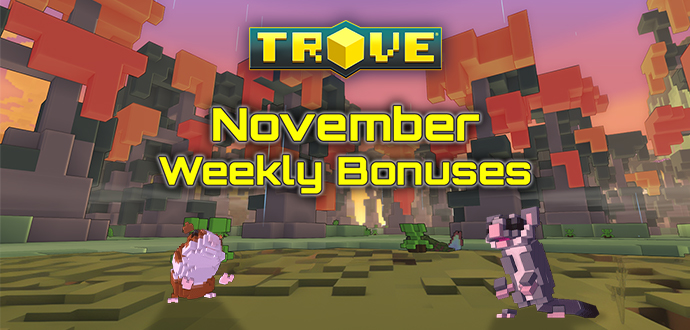 03.11.2023
Enjoy great weekly bonuses!
Hello Trovians!
As the leaves continue to fall and the air grows crisp, we've got a lineup of fantastic November weekly bonuses to keep you cozy and entertained in Trove. So, grab a warm mug of tea, huddle up by the fire, and let's dive into the exciting events coming your way.
November 6th – 13th: 100% Bonus XP
It's time to ramp up your adventure and level up faster! For the first week of November, enjoy a bountiful 100% Bonus XP. Gather your friends, explore the amazing worlds of Trove, and make the most of this fantastic experience boost.
November 13th – 20th: Second Stat Reroll
Want to fine-tune your equipment for upcoming challenges? Well, you're in luck! During this week, you can reroll the second stat on your gear using the Chaos Forge. Don'tmiss out on this chance to optimize your gear for the battles that lie ahead.
November 20th – 27th: Fast Invasions
Shadow Invasions are back and they're storming in faster than ever! This week, you'll find increased rates of Shadow Invasions, offering more opportunities for you to jump into the action, defeat invaders, and earn rewards. Get ready to experience the thrill of the chase as you join in on the fun!
November 27th – December 4th: Double Star Bar
The grand finale of our November weekly bonuses: During the Double Star Bar event, the rewards from the Star Bar will be DOUBLED! That means you'll have a golden opportunity to earn even more Cubits and Flux than usual. It's the perfect way to stock up on valuable resources.
Please note that weekly bonuses reset at 11 AM UTC / 12 PM CET each Monday.
May your November be filled with loot, laughter, and unforgettable moments!
See you in-game, Trovians!
play now