Trove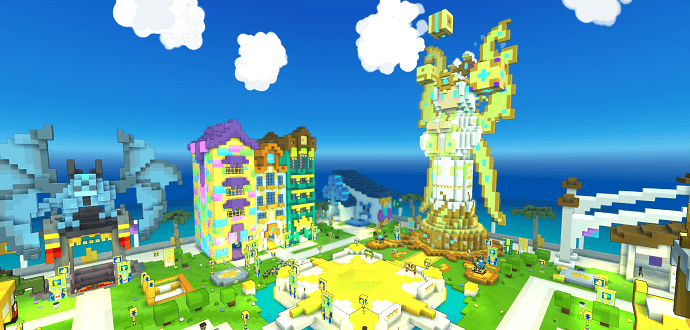 12.07.2022
Celebrate Trove's 7th birthday with us!
Let's celebrate 7 years of adventures, 7 years of parties & celebrations, 7 years of fun, and 7 years of happiness & joy together!
Once again, the three houses of Tysorion, Carys, and Panatea are back in the hub to fight for your loyalty. This time, however, they have a common enemy as they are being targeted by this year's party crasher, Chuck Pinzo, and they all fell victim to his scam.
Advance through an all-new 12-step questline, where you meet Chuck Pinzo as he runs a scam on our three Great Houses before escaping. Fight your way through the quests, earn 2 new event currencies – Pinzoins & Trovian Finite Notes (TFN) -, stop Chuck Pinzo, and receive amazing new rewards along the way.
It does not stop there as the celebrations also found their way into our in-game store with three brand-new packs. These packs contain mounts, costumes, allies & much more to help you represent your favorite house and enjoy the birthday festivities.
Enjoy the Sunfest 2022 celebrations until July 26, 2022, at 11:00 AM UTC – on all platforms!
play now
You might also be interested in: