Social Media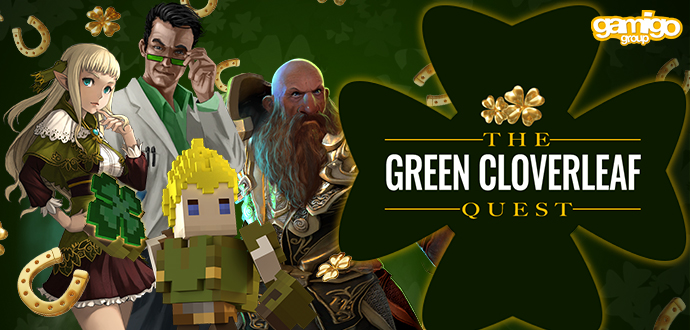 15.03.2023
Feeling green!
Hello Adventurers,
In the mood for an adventure and want to receive the hidden TREASURE? Then hop on our Green Cloverleaf Quest to find the mysterious sentence hidden across all the Social Media channels from gamigo.
And it wouldn't be a proper quest without a fitting reward! Should you be able to find all marked letters across our Social Media platforms (Facebook, Twitter) and complete the sentence, you will be able to earn amazing rewards for your favourite games.
Follow the steps and get a chance for an amazing reward:
1. Marked letters can appear from
March 13, 2023 – March 26, 2023
2. The letters will be marked in the description of the posts on Facebook & Twitter (English only)
3. Build a sentence from the marked letters after March 26, 2023
4. You have two ways to enter the contest.
Decide one or take both to double your chance of winning.
5. Fill out the form and/or join Gleam.io
6. The form & Event on Gleam.io will be available until March 29, 2023.
And get a chance to win amazing prizes!
Keep an eye on the following English Social Media channels:
The form and the raffle close on March 29, 2023, at 12 AM CET, so be sure to start your hunt earlier than later so you'll be in time to find out if you're the winner on March 30, 2023!*
*Rewards will be sent out between March 30, 2023, and April 13, 2023, Gleam.io winners will be directly notified via the email they registered with.
General Terms of Participation apply.