Fiesta Online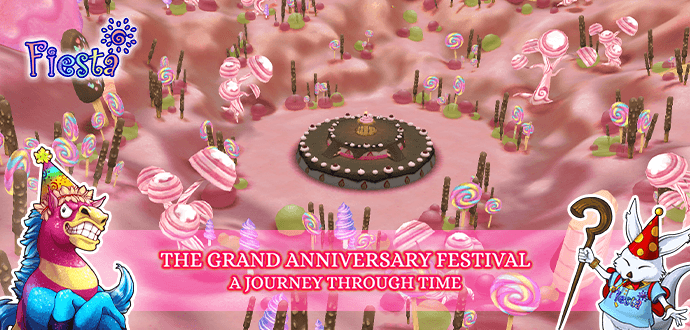 01.08.2023
A Journey Through Time
Hello Isyans!
We are happy to celebrate Fiesta Online's grand anniversary with all of you! The festivities are in full swing, and we have prepared an exciting patch filled with surprises and fun.
The Birthday Puzzles Return: The enigmatic Birthday Puzzles are back in Elderine! There are 9 titles to be earned that will make your celebration even more special!
The Cupcake War Kingdom Quest is back: Join your fellow adventurers in the Cupcake War Kingdom Quest, where two teams (max 8vs 8) play against each other in the Cake Arena.
New Kingdom Quest: Birthday Party Crashers: Team up, stop waves of monsters and protect the cake from these uninvited guests in this exciting defense mission against the menacing Killer Hide.
New Questline: Kenton's Birthday Cake: Bake tasty cakes, avoid soggy bottoms, and be rewarded with birthday-themed items and buffs that will aid you in your future adventures.
Bug fixes:
✔ We've corrected an incorrect magical defence value for Tainted Havoc Pants.
✔ An issue has been resolved where the Client would not correctly show buffs in certain situations.
✔ An issue has been addressed where after using tears of legel or cleric revive buffs did not reload properly.
✔ An issue has been addressed where Amatheon would spawn more than once on occasion.
And to double the joy of our anniversary, we're activating an EXP & Drop boost + 20% for the entire month! The Boost Event will last until 5 September 2023 at 1 AM PDT/10 AM CEST.
Thank you all for being a part of Fiesta Online's incredible journey!
Find all the information here: https://bit.ly/AnniversaryPatchFOUS
play now