gamigo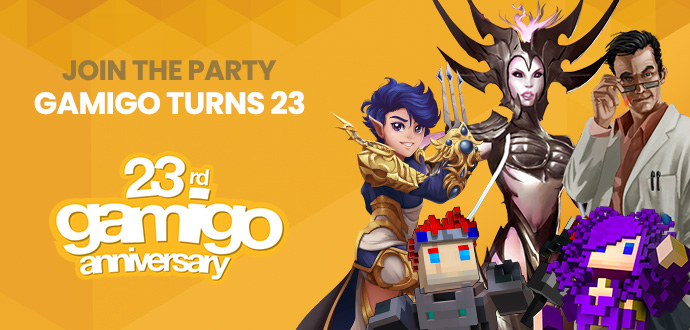 06.10.2023
Exclusive Giveaways for all Adventurers!
Time flies when you're having fun, and we've been having an absolute blast for 23 years! It's hard to believe how far we've come since we first opened our virtual doors, and it's all thanks to you - our great players! This anniversary isn't just about us. It's a tribute to you, our cherished gaming community.
A Universe of Games
At gamigo, we offer a select range of titles, each fostering its unique community and gameplay experience. Whether you're into action-packed battles, magical quests, or social interactions, there's a corner in our gaming world for you. Let's make this anniversary an occasion to enhance your time with us.
Interested in Exploring Our Games?
As a token of our appreciation, we've prepared exclusive in-game gifts for our gamers across all titles. Find the game you love and unlock your special anniversary gift using the unique code below!
Trove: 23gamigo
https://www.trionworlds.com/trove/en/store/redeem/
Fiesta Online: FOGAMIGO23
https://support.gamigo.com/hc/en-us/articles/360042216573-How-to-Redeem-Voucher-Codes
Rift: RIFTGAMIGO23
https://www.trionworlds.com/rift/en/store/redeem/
Desert Operations: DOGAMIGOANNIVERSARY23DO
Wargame1942: WGGAMIGOANNIVERSARY23WG
To redeem your gift, simply login to the game account and enter the code in the code redemption area. The codes are only valid until October 11, 2023.
Thank you for being part of our epic 23-year journey!
Here's to many more quests, levels, and achievements together!
Your gamigo Team